About 10 years ago, the question "Why migrate to Amazon Web Services?" often referred to as "sarcasm". Why? Will this question still be satirical in 2021 and beyond? Let's discuss with VTI Cloud!
Components of IT system
Since the concept of cloud computing started in the years from 2008 to 2012, almost every online service when operating will be installed on physical servers, those servers will handle browser requests if you use the web on your computer, then the mobile apps. Websites with a large number of users need to build a database server to store data.
Later modern systems also have additional caching mechanisms to reduce server load and reduce data load times, and then have processing streams for analysis, machine learning, and artificial intelligence applications. Each of the components listed above in the system is called a service, but companies often have dozens to hundreds of such services, all installed on one or more physical servers.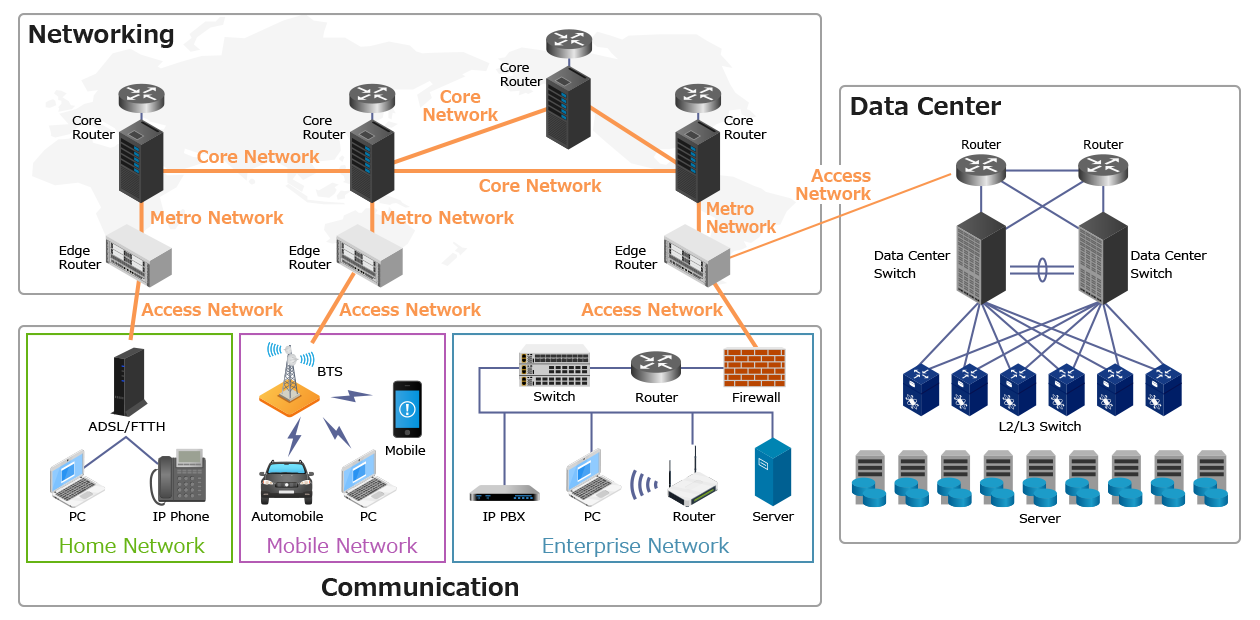 Before there were cloud services like AWS, companies had to buy their own servers, install the operating systems, install the necessary tools to run their services, and then build their own. The machine room is not qualified to run those servers.
However, this takes a lot of effort, because businesses have to manage their own servers and locations, and spend time dealing with hardware problems, power outages, network outages… and generate a lot of problems. management costs, and personnel costs. Not to mention investing in a physical server without making full use of its resources also causes waste for businesses.
The Explosion of the Public Cloud
To put it simply, Public Cloud is a form of using Cloud Computing technology to transform physical resources into services provided to users (can be individuals or businesses).
In the basic Public Cloud model, the provider stores IT resources on-demand through monthly or yearly subscriptions. They can extend and make them available to users over a private network connection, or over the Internet.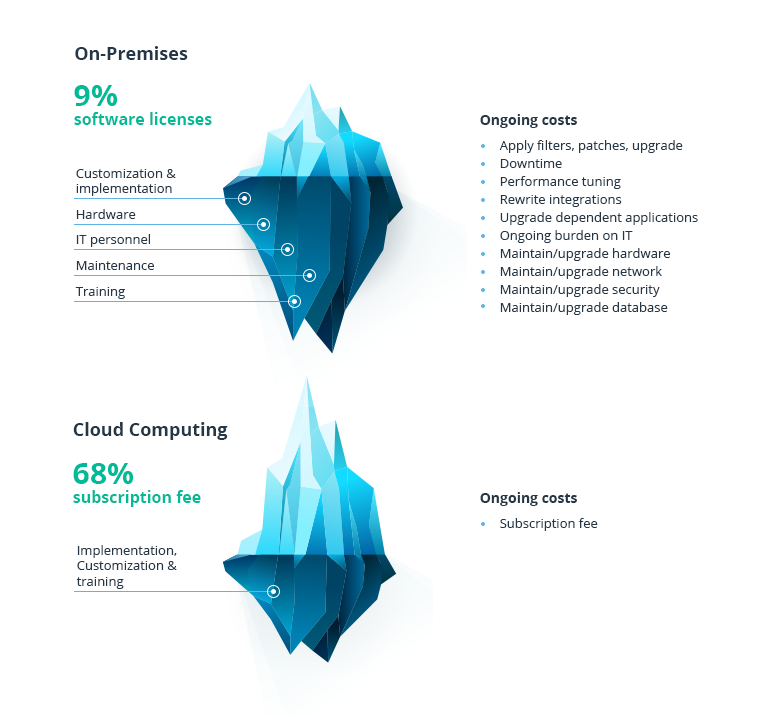 Public Cloud is a trend and a way to help businesses replace traditional IT architectures. Enterprises do not need to manage physical servers, do not need to rent server space, and do not waste time and resources operating cooling rooms, and even shorten service installation time. In addition to reducing unnecessary costs, public cloud services also have a commitment to Stabilization, High-Availability, and Durability, typically Amazon Web Services.
Amazon Web Services – "The pioneer" of the cloud computing industry
In addition to being the leader and making strides apart from big companies like Microsoft, Google, or Oracle,  Amazon Web Services (AWS) ALWAYS COMMITTED to very high stability in the services and infrastructure it provides.
Here are four key factors that explain why AWS will give end-users and businesses the utmost confidence in investing in changing or expanding aging IT systems and meeting the needs of their customers. later modern applications.
AWS Infrastructure: Always have high availability
AWS offers the highest level of network availability of all cloud service providers. Each Region is completely isolated and consists of multiple Availability Zones (AZs, each consisting of at least 2 different data centers), which are completely segregated partitions within the AWS infrastructure.
To isolate all incidents and achieve higher availability, enterprises are encouraged to split applications across multiple AZs in the same region (Region). In addition, the control planes and the AWS Management Console are distributed across multiple regions and include regional API Endpoints. Customers won't even know if the AWS Management Console or the service API is down!!!
AWS Hardware: The Ultimate Weapon
You may have heard that Google custom-built their own server model, but runs Intel chip inside, or Facebook uses self-designed switch lines to replace high-end switch brands like Cisco or Cisco. HPE…
But with AWS, it's all self-designed!
That's right, AWS designs not only routers, the chips in servers and networking devices, storage and compute servers, and speed networks, too. its own high-speed network. All are according to the highest industry standards with great configuration and parameters to meet the huge needs of the world's users.
Information contained in a presentation at re:Invent 2016 by James Hamilton:
AWS Services: Fully-functional services
AWS has a lot of services and more features inside, than any other cloud provider, including new technologies, like machine learning and artificial intelligence, data warehousing, and analytics, or the Internet of Things. This helps you move your existing applications to the cloud faster, easier, and more cost-effectively, and deploys faster and with less effort.
AWS also has the deepest functionality of those services. For example, AWS offers the widest variety of databases (including support for MySQL, SQL Server, Oracle Server, PostgreSQL…) that are purpose-built for different types of applications so you can choose the engine suitable for the job for the best cost and performance.
In addition, the scalability of AWS services is said to be very easy and can almost be automated, with the right Auto-Scaling configuration (VTI Cloud can support businesses with setting these policies), EC2 instances can be automatically created to accommodate increased user traffic. Businesses do not have to worry about sales festivals like 11.11, 12.12, or Black Friday… but only need to focus their human resources on promoting business and advertising.
AWS Security: AWS is among the most secure providers
AWS is designed to be the most secure and flexible cloud computing environment available today. The core infrastructure is built to meet security requirements for militaries, global banks, and other organizations with a high degree of sensitivity.
This is supported by an in-depth set of cloud security tools, with 230 features as well as security, compliance, and governance services. AWS supports 90 security and compliance standards, such as CSA, ISO 9001, ISO 27001, ISO 27017, ISO 27018, PCI DSS Level 1, SOC 1, SOC 2, SOC 3… All 117 services AWS that store customer data provide the ability to encrypt that data.
Read more about the security checklist for systems on AWS: Security Checklist for systems on Amazon Web Services | VTI CLOUD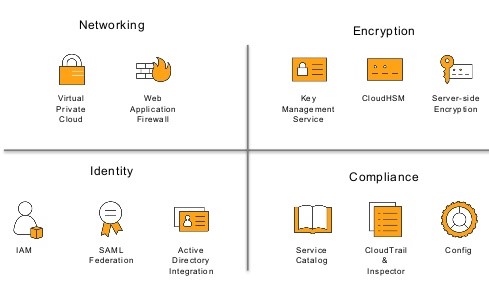 Enterprise Costs: Pay as you go, always predict and thoroughly manage costs
We are all too familiar with the payment method of cloud computing services as pay-as-you-go. This feature helps businesses easily calculate the actual cost they will spend to build an IT system, but only pay monthly.
However, there will always be times when the system has to expand due to the outstanding growth of the business, or run a test of new technology. Here, VTI Cloud will go more deeply into how customers can easily manage their monthly expenses for proactive interventions, avoiding the cost impact of businesses.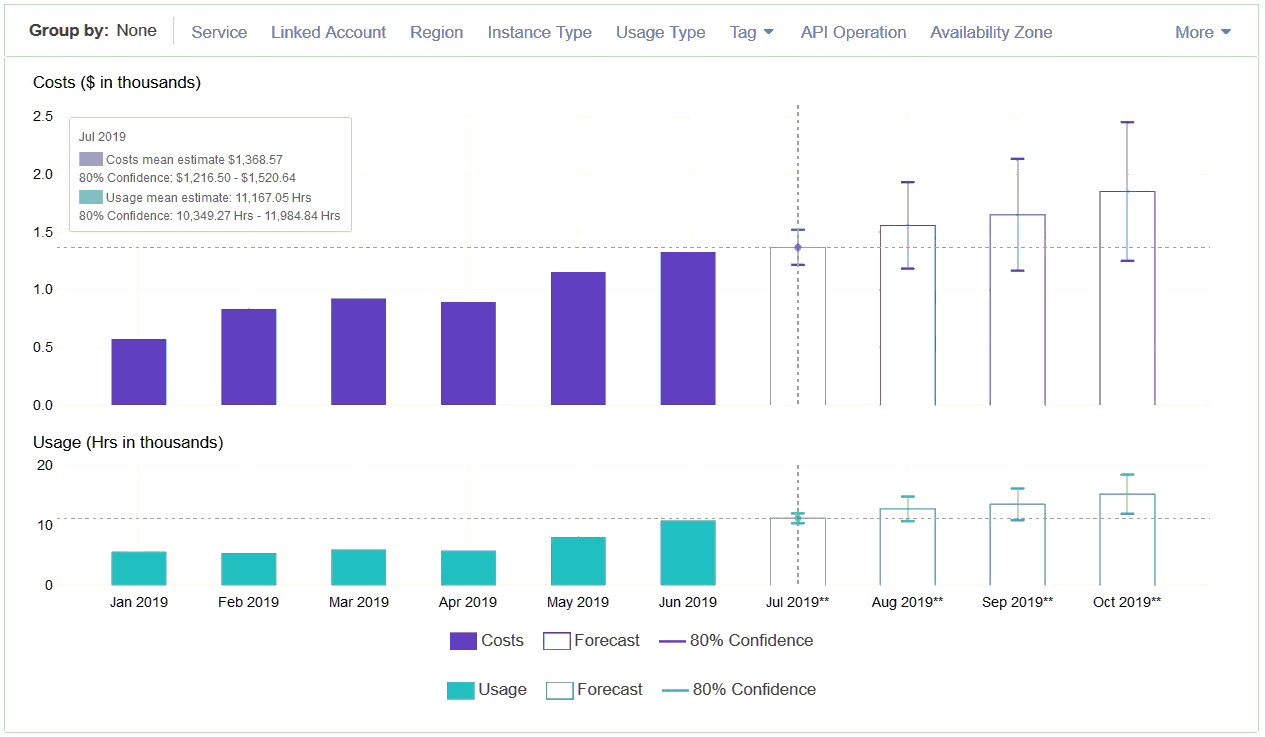 In AWS, we can precisely set the maximum amount to be charged for instances and other services. All types of payment alerts can be set to ensure that the budget is not exceeded. At the same time, the billing interface will also predict the cost of the system in the coming days, helping to warn administrators about the risk of exceeding the limit, in order to make adjustments to the system as soon as possible.
Enterprise Human Resources: Optimizing costs but still increasing business efficiency
10 years ago, a large enterprise had nearly 20 IT staff to administer systems, hardware, server rooms, operating systems, and applications for large and small projects. Businesses can now leverage the strengths of top AWS partners to reduce staffing.
A team of 2-3 people of partners can support the administration of the entire customer system on AWS, businesses only need to maintain 5-10 employees for the management of different large and small projects. This will help businesses reduce human management costs and focus more on project completion and business development.
AWS Migration steps
Step 1: Learn about the five stages of a successful migration to AWS. Read in the previous article of VTI Cloud: https://www.vticloud.io/en/dich-chuyen-len-aws-5-giai-doan-cho-qua-trinh-dich-chuyen-thanh-cong/
Step 2: Contact VTI Cloud for the most specific advice and assessment before migrating to AWS. The steps include:
Pre-migration assessment for moving to AWS
VTI Cloud analyzes customer benefits and risks from both technology and business perspectives and performs complete conversion assessments for each customer.
Building a migration plan for moving to AWS
Depending on the different operating volumes of the customer, different shift implementation plans are developed. According to the theoretical model given by AWS, migration strategies are built from the results of the assessment performed in the above step. Start with simple application/system migration to applications with greater business complexity and importance.
VTI Cloud has a standardized process for implementing and managing projects for clients. Since the project was started, there are always meeting minutes, checklists, work logs, project documents,… fully stored for customers.
Training and transfer of project materials
After successfully moving customer systems to AWS, VTI Cloud will provide documentation and training sessions related to the use of AWS to help customers quickly transition to AWS from other environments, ensuring the stability and continuity of their business. The content may revolve around how to optimize costs on AWS (https://www.vticloud.io/en/10-goi-y-giup-ban-toi-uu-chi-phi-tren-aws/) ,
About VTI Cloud
VTI Cloud is an Advanced Consulting Partner of AWS Vietnam with a team of over 50+ AWS certified solution engineers. With the desire to support customers in the journey of digital transformation and migration to the AWS cloud, VTI Cloud is proud to be a pioneer in consulting solutions, developing software, and deploying AWS infrastructure to customers in Vietnam and Japan.
Building safe, high-performance, flexible, and cost-effective architectures for customers is VTI Cloud's leading mission in enterprise technology mission.