"The cloud is a new benchmark".
This is the statement of Andy Jassy – CEO of Amazon Web Service in the opening of re:Invent in 2014. So how do businesses now use this "new standard" effectively? How do I move physical and virtualized server systems to the cloud? And choose what ways and tools to maintain the continuity of business activities? Perhaps these are the top concerns of business leaders and managers in the current period of digital transformation.
In this article, VTI Cloud will introduce five key stages of moving the system to the AWS cloud environment so that we can better understand the process of implementing this "new standard"! The article was by Do Thanh Tung – Solutions Architect of VTI Cloud.
About "migration"
Shifting a certain number of IT assets (not necessarily all) to the cloud environment is seen as "migration." The migration process can be one or more data centers or multiple complex system components combined with each other rather than necessarily a single system.
Businesses considering moving their systems to the cloud may want to upgrade their system performance, expire their data center leases, or want to expand their business models,… The reason for moving up above the cloud environment may have its own characteristics, but there is always a common solution for any case.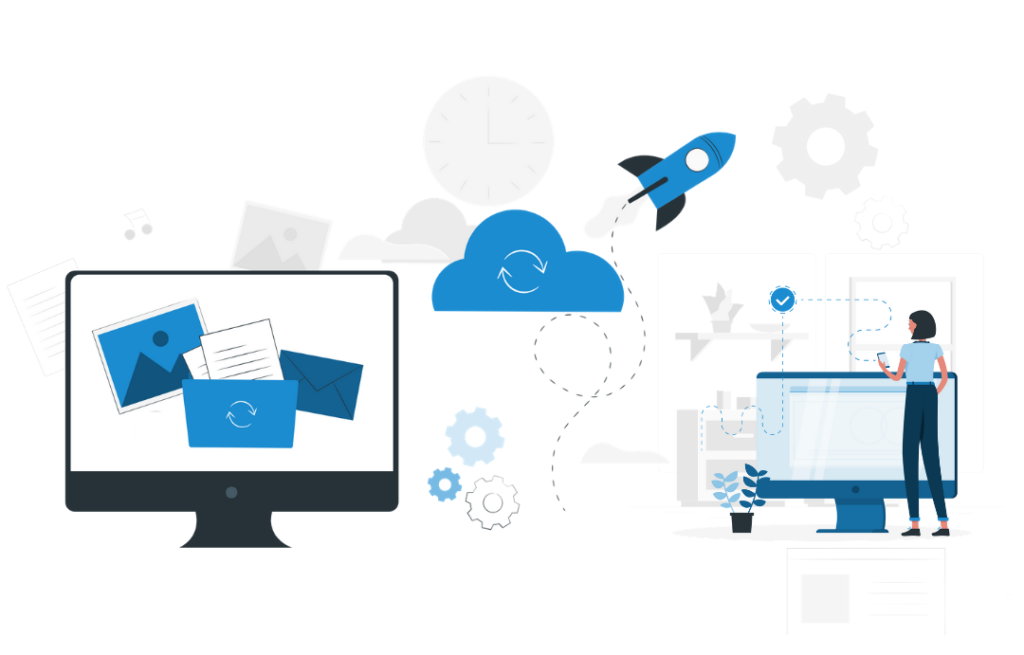 These solutions are based on the knowledge and experience gained from different organizations and businesses that have successfully transformed their traditional IT models to AWS. Therefore, every organization and business that is considering moving its systems to AWS are encouraged to adopt these "best practices".
Five phases for moving to AWS
In the process of moving, we should start with the simplest applications or systems. Then continue to optimize the system during the transition, gradually increasing the complexity and finally completing the system movement.

Phase 1: Preparing for the moving to AWS and evaluating opportunities
This is the most important period as it sets directions, goals, and potential timelines for shifting to AWS. During this period, it is necessary to have clear and knowledgeable business objectives about the life cycle, architecture, and the links of existing applications/systems to develop a good plan.
Phase 2: Portfolio analysis and planning
In order to have a plan to shift workloads from traditional data centers to AWS environments, it is critical to have an understanding of the complexity, the mutual dependence between applications, and the level of enterprise dependence on those workloads. In addition, it is also important to get information about their resource usage, configuration, and behavior patterns. This can be used to calculate the Total cost of ownership (TCO) of workloads running on AWS and future migration strategies and implementation plans.
There are quite a few different tools that can be used during this period. AWS also offers a free service, the AWS Application Discovery Service. This is a tool used to collect specific information about the application from data centers using agents or agentless. The information collected can then be exported as an Excel file to analyze or use available AWS analytics tools such as Amazon Athena and Amazon QuickSight. It also integrates with the AWS Migration Hub to track the actual migration status of workloads.
Phases 3 and 4: Design, move and verify applications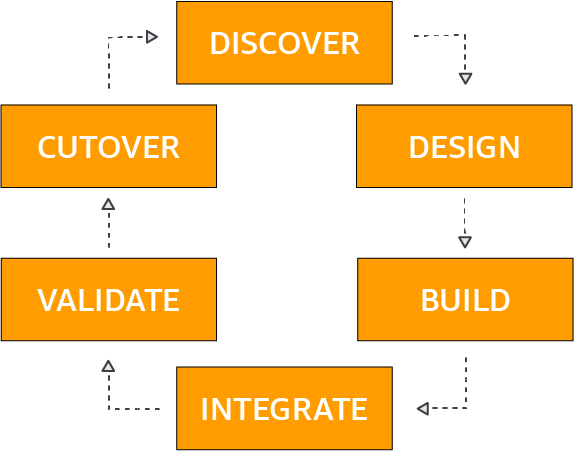 This is the implementation phase of the five-step process where the focus is on the actual migration of applications to the AWS environment. Based on a pre-defined migration strategy, it is possible to consider redesigning applications so that they can be more optimized when running on AWS environments. This is followed by the migration and verification of the operation of the application.
Finally, testing for each application after moving to a new environment is also an important requirement.
In addition, continuous improvement and repeated review of design, migration, and authentication phases should be integrated to ensure that the system operates entirely on AWS. For applications/systems that have been successfully migrated, Post Implementation Review is always encouraged to ensure that new applications/systems are successfully migrated in the future.
As with the above stage, AWS offers a variety of solutions and tools that help customers during the transition:
VMware Cloud on AWS

AWS Server Migration Service

Database Migration Service

AWS Data Sync

AWS Data Transfer Family
Phase 5: Modern operating model that after moving to AWS will apply
Adopting a hybrid model (part ground infrastructure and part of the cloud) or shifting all workloads to AWS will require organizational operational improvements to make the most of what this environment has to offer. AWS provides methods and tools adapted to the operation of applications and systems in the cloud, one of which includes:
DevOps focuses on a combination of application developers, IT operations management, security,… to automate and speed up application deployment. It focuses on core principles such as Infrastructure as Code, Continuous Delivery, automation, monitoring, and security. The services AWS provides such as AWS CodeBuild, AWS CodeCommit, and AWS CodeDeploy can be used to build CI/CD pipelines for software construction, testing, and deployment.
Serverless, also known as Function as a Service (FaaS),is a minimalist cloud computing model where application functions can be individually scheduled for on-demand implementation, often based on events. The use is extremely easy for users, they only have to pay for the time spent instead of the entire cost of the application as in the traditional way where it still has to pay even if the application does not work.
AWS Lambda provides the most flexible serverless platform and easily deploys cloud-based serverless applications by different providers today.
AWS Well-Architected Framework
AWS has developed the best methods for deploying cloud system architecture based on five key components: Operational Excellence, Security, Reliability, Performance Efficiency, and Cost Optimization.
This Framework can be read more in the following article: https://vticloud.io/aws-well-architected-framework-la-gi/
Using this framework, organizations and businesses can evaluate their cloud architecture and come up with a way to fix or improve to get the most out of what AWS delivers in the most efficient way.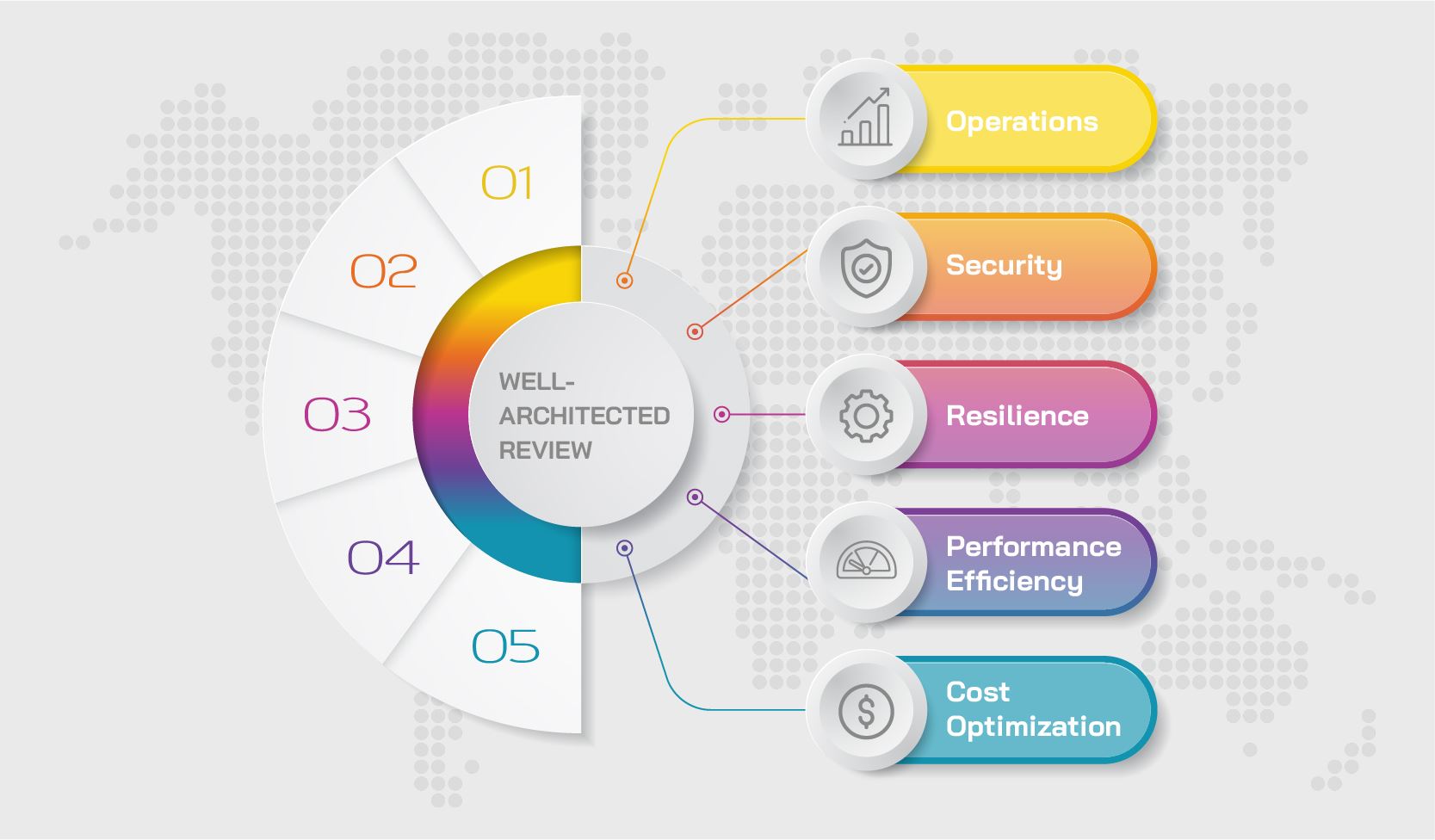 VTI Cloud has solutions to help businesses moving to AWS
Based on real-world experience in successfully shifting systems to large numbers of customers and combining the best methods proposed by AWS, VTI Cloud can customize the shift plan to suit your existing IT needs and systems, including highly systematic migration analysis and planning, system optimization after migrating to AWS, architectural design, consulting services, and data migration,…
Pre-migration assessment for moving to AWS
VTI Cloud analyzes customer benefits and risks from both technology and business perspectives and performs complete conversion assessments for each customer.
Building a migration plan for moving to AWS
Depending on the different operating volume of the customer, different shift implementation plans are developed. According to the theoretical model given by AWS, migration strategies are built from the results of the assessment performed in the above step. Start with simple application/system migration to applications with greater business complexity and importance.
VTI Cloud has a standardized process for implementing and managing projects for clients. Since the project was started, there are always meeting minutes, checklists, work logs, project documents,… fully stored for customers.
Training and transfer of project materials
After successfully moving customer systems to AWS, VTI Cloud will provide documentation and training sessions related to the use of AWS to help customers quickly transition to AWS from other environments, ensuring the stability and continuity of their business.
About VTI Cloud
VTI Cloud is an Advanced Consulting Partner of AWS Vietnam with a team of over 50+ AWS certified solution engineers. With the desire to support customers in the journey of digital transformation and migration to the AWS cloud, VTI Cloud is proud to be a pioneer in consulting solutions, developing software, and deploying AWS infrastructure to customers in Vietnam and Japan.
Building safe, high-performance, flexible, and cost-effective architectures for customers is VTI Cloud's leading mission in enterprise technology mission.